2012 has been an amazing year for movies.
Slowly but surely I'm whittling my Top 10 list down to the final titles and in a movie year this stacked I've been forced to painfully leave a lot of great cinema on the cutting room floor. My first pass at a Top 10 yielded 30 titles, which I've since narrowed down to 12, so without further ado, here's a few of the movies that didn't quite make the cut, but deserve recognition of their own.
Best film about college: Liberal Arts
When he's not playing the central character in CBS's highly-successful sitcom How I Met Your Mother, Joss Radnor likes to fill his time writing, directing and starring in quiet independent films. His first was Happy Thank You More Please, which he then followed up with Liberal Arts about a mid-30s university admissions employee taking a trip back to his alma mater and falling hopelessly in puppy love with a young co-ed (played by the disarmingly beautiful indie "it" girl Elizabeth Olsen).
I caught LA at the 2012 Sundance Film Festival and was tickled pink when it got it's theatrical run. The movie manages to deliver a quiet, emotionally honest film that could have easily ran off the rails into contrived shenanigans but instead stays the course, tapping into the shared nostalgia of the millennial generation and daring you to not fall in love with Olsen right alongside Radnor's character.
For my full Wood's Stock review, click here.
Best Documentary: Bully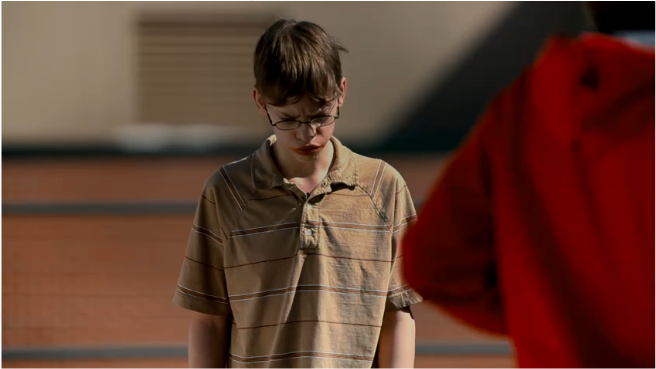 When Harvey Weinstein (of The Weinstein Company) started kicking up dust about Bully's R rating, it was obvious that he was making a grab at free publicity for Bully, the little documentary that could. But upon viewing, it turns out it was worth the fuss.
Bully tells the story of a handful of school-age misfits and their struggles to get by in the public school system. It paints a dark picture, mostly by the way it holds a mirror up to adult society and the way we tend to shrug off incident of abuse and violence with a simple "Boys Will Be Boys" and, at most, a slap on the wrist. It ain't pretty, but it's something that must be shown if anything is ever going to change.
For my full review, click here.
Best Superhero(es): The Avengers
After years of mind-numbing Transformers and Pirates of the Caribbean sequels, you couldn't help but wonder if we had collectively reached the tipping point of diminishing returns on big popcorn summer spectacle. Then a funny thing happened, one after another Marvel started releasing a string of sugar-sweet superhero flicks, all while dangling the carrot of an Avengers team-up project in front of us.
"Madness!" we said. "It can't be done."
Well, it can and was and in their most brilliant move yet Marvel hired super-geek and uber-nerd Joss Whedon to craft arguably the most ambitious action film ever created. The varying franchises came together with seamless harmony, Hulk finally got the treatment he deserved and under the careful tutelage of Whedon we laughed, cried and perched at the edges of our seats. Bravo!
For full review, click here.
Best January surprise (tie): Chronicle and Haywire
*
*
*
*
*
*
In the world of Hollywood, the January-Febrary period is typically reserved as a wasteland to burn off whatever phoned-in piece of nonsense the studios have collecting dust on the shelf. But, every so often, a shrewd filmmaker will strategically place a lesser known but creatively ambitious property into the wasteland, with the hope that the less competitive slate will help the movie find a greater audience.
We're lucky to get one of these, but this year we got two in the form of Chronicle, a found-footage spin on the otherwise tired genre of superhero origin stories with a cast of unknowns, and Haywire, a heavily-pedigreed ensemble action piece centered around a female Bourne-esque hired gun played by professional fighter Gina Carano.
In both cases, you get something familiar and yet not quite like anything you've ever seen. Chronicle uses CGI sparingly and in the process pulls off some very impressive visual treats while still preserving the vibe of three high school punks who stumble into superhuman abilities. In Haywire, A-List director Steven Soderbergh pulls back the camera, showing every kick and punch of his hyper-realistic actions scenes. It's like watching a Bruce Lee kung fu movie, except one with a female hero, a plot and respected actors (Michael Fassbender, Ewen McGregor, Kurt Douglass and Antonio Banderas, to name a few).
Best Indie: Safety Not Guaranteed
In Safety Not Guaranteed, a (possibly) crazy Mark Duplass places an advertisement in the newspaper for a co-pilot to join him in an adventure back in time. The ad catches the eye of a magazine writer, who sets off with two interns to get the scope and meet up with an ex-girlfriend on the way.
That's essentially it, but the minds behind SNG manage to turn a 50-word classified ad into one of the quirkiest, most charming pics of the year as Aubrey Plaza and Duplass train for their voyage through time and New Girl's Jake Johnson deals with the questions of what could be and what could've been. The underlying question of whether or not Duplass' character is completely out of his mind is craftily toyed with for the film's entirety, until everything comes together in a simple yet perfectly satisfying conclusion.
The Wood's Stock Balls-To-The-Wall Award: The Cabin In The Woods
A jock, a hot blond, a nerd, a stoner, and a "good" girl go away for a weekend in the woods. Oh, you've heard this story before?
No. You haven't.
Joss Whedon (him again?) and Drew Goddard know every horror trope in the book, and gleefully play with each and every one of them in Cabin In The Woods, where five friends head out on seemingly the most cliched movie premise in history only to encounter…well I can't tell you, because it would spoil it.
The first trailer for CITW set the film up for some sort of genre-bending, trippy time, but you can practically hear the filmmakers giggling as they twist and turn the plot before going all-out redonk-a-donk crazy in act III. In lesser hands, CITW would've been simply Halloween part 8 (or whatever number we're on). Even in mediocre hands CITW would've been a failed attempt at meta horror-comedy. But in Whedon and Goddard's hands, CITW is the kind of crazy party I want to go to again and again.